We have all seen multiple reels and TikToks telling us how we should use fermented rice water for our hair and skin. We usually skip them thinking they are just another trend, but fermented rice water lives up to the hype.
Where does fermented rice water come from?
Fermented rice water is high in nutrients and can be wondrous for your hair. For this reason, it has a long iconic history in Asian culture. Rice water is high in amino acids, and aids in hair regeneration, collagen production and increasing the strength of the hair. It's also a well-known fact that amino acids in rice water help to make hair smoother and shinier, as well as reduce tangling.
A lot of people recommend rice water as a hair development supplement. While some claims need additional research, it is beneficial to general scalp health, which is always necessary for healthy hair development. Rice water is high in vitamin B and E, both help to reduce inflammation. This promotes a healthy scalp, allowing new hair to grow stronger and healthier.
While you could cook white rice and then spray or rinse your hair with the rinsing water (as TikTok suggests), hair products enriched with fermented rice water are a significantly easier method to gain the advantages. Fermented rice water is appropriate for all hair types and textures, but they will most likely have the best and most noticeable effects on coarse or damaged hair.
What is Yu-Su-Ru?
Fermented rice water has long been known to nourish the hair and scalp, going all the way back to the Heian Period in Japan. The rice water rinse, known as Yu-Su-Ru, was initially used by women of the court and was considered to have contributed to their long hair. This miraculous treatment is suitable for all hair types, including those that have been coloured.
The science behind the Legend:
According to the legend, Japanese court ladies used rice-washing water to rinse their suberakashi (floor-length hair), which may have contributed to their amazing lengths. So, whether you want to strengthen your hair, lengthen it, or do both, rice water may be the remedy to fulfill your hair dreams. If you need any more reasons to use rice water on your hair, it also improves shine, tames frizz, and detangles strands.
Inositol: A key component in rice water:
Inositol, a vital element of rice water, is found in nearly all plant and animal foods. Inositol is a carbohydrate that aids in the regeneration of damaged hair. It can remain in the hair strand even after you've rinsed and shampooed it. This ensures that it will continue to protect and insulate your hair even after it has been rinsed. It has been shown to increase hair elasticity and reduce friction.
Benefits of using fermented rice water on your hair:
Let's talk about some of the most significant benefits of using fermented rice water or the products that have it:
Strengthens your hair:
Protein is vital for maintaining a healthy diet, and it also plays a significant role in hair health. Fermented rice water contains protein, which is believed to enhance the overall condition of hair.
Makes your hair shiny:
According to anecdotes revolving around hair care improvements, rice water fans advocate that the starchy solution adds luster to dull and damaged hair.

Makes hair grow faster:
Since rice water contains amino acids that aid in hair regeneration, it could enhance hair growth. It also contains vitamin C, B, and E, all of which boost hair development. Vitamins C, B, and E also aid in the strengthening of the hair shaft, and the stronger the shaft, the more the hair can grow.
Helps reverse hygral fatigue:
Even though hair requires moisture to stay healthy, too much moisture can be harmful. Protein treatments like fermented rice water rinses  rebalance overly moistened hair.
An amazing detangler:
fermented rice water rinses and treatments soften the strand, making them easy to detangle for more manageable hair.
Smooths hair:
Damaged and/or porous hair struggles to retain moisture, resulting in frizz and split ends. The strengthening proteins present in rice water counterbalance this while minimizing breakage and enhancing hair texture.
With so many products on the market, and the endless scroll, it can be hard to choose the right products that will work for you.  We saved you the trouble and confusion, and put together a little guide for anyone who wants to buy fermented rice water products.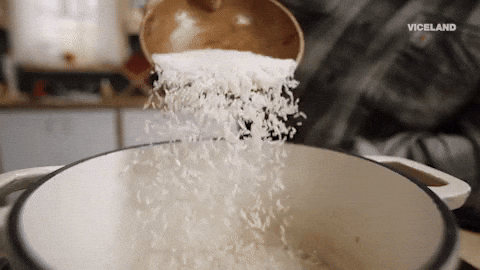 Things to consider before using a rice water shampoo and rice water products:
Consider your hair type:
Fermented rice water is unique in that it benefits all hair types, but when choosing, pay attention to your other hair and scalp need. As there are offerings on the market that are specifically created for curly hair, fine hair or color-treated hair, choose one that is tailored for your specific needs.
The ingredient list:
Similar to any ingredient list, the higher up the list the more concentrated the formula and  the more benefits you'll receive. Fermented rice water is not the only substance that is beneficial to your hair. Rice oil (also known as rice bran oil), hydrolyzed rice protein, and rice extract are all helpful rice-based compounds that are worth looking for. However, fermented rice water is often listed as 'Rice Ferment Filtrate' and the one to look out for.
All you need to know about abyssian's Hello Volume Range:
At Abyssian, we offer science-backed, pro-planet haircare for all types of hair, with ingredients inspired by nature. We use packaging, materials, and formulae that are cutting-edge, efficient, and sustainable to simplify hair care to the best that nature has to offer. 
Inspired by the traditional Japanese ritual where women would use fermented rice water during the Heian period to keep their long, glossy hair looking young and healthy. The Hello Volume Set includes all four full-sized products from the range, to help you complete your hair care regimen. This kit will help you get started on your search for volume without losing the softness and  hydration without greasiness. Say goodbye to sad, lifeless hair and hello to volume!
Introducing the Hello Volume range, formulated with fermented rice water and more: 
Our community loves the Hello Volume range, with the Hydrating Volumizing Shampoo  becoming a cult favourite. 
"For someone who dreads hair wash days,this conditioner has saved my life!! I have not had bad tangles in so long and it smells amazing too." from an abyssian customer, with curly hair.  
We are sure that you have heard about how a healthy scalp is the foundation for great hair. Hello Volume Hydrating Volumizing Shampoo is like fertilizer for the scalp, rich in rice amino acids and a variety of other stimulating ingredients that make your hair healthy and look shiny. 
Follow our step-by-step hair care routine using the Hello Volume range will add that oomph your hair has been missing and we promise you will fall in love after just one use:
Start with there-shampoo clay mask!
The Pre-Shampoo Clay Mask will give your hair and scalp the extra care it needs by utilizing the goodness of the earth to energize the scalp and uplift dull, fine hair. Any grease or excessive oiliness is absorbed by the French blue clay and aloe vera extracts work to soothe and nourish the scalp. Show your hair some love with our version of a mud bath spa treatment.
Next up! The Hydrating Volumizing Shampoo:
A lightweight everyday shampoo that is silicone and quat-free and fortified with fermented rice water e to add visible volume and healthier growth while maintaining moisture. Formulated with saw palmetto extract, zingy kick of ginger and hydrolats of rice protein - this shampoo supports strong, resilient hair development while deeply cleansing and lifting hair from the roots.
Stay hydrated with  the Hydrating Volumizing Conditioner.
This all-natural, completely biodegradable, antistatic conditioner adds volume and hydration without weighing it down, even for fine grease prone hair. The Hydrating Volumizing Conditioner is formulated with volume boosting and smoothing fermented rice water, so you can bid farewell to flyaways and say hello to strong healthy growth. 
Top it off with the Revitalizing Rinsing Mist:
The last step but very important step - the Revitalizing Rinsing mist counteracts chemicals in tap water and helps to balance the scalp pH and should be the last water your hair touches This amazing hair mist gives fine hair visible volume and is fortified with GreyDelayTM, that works to boost your natural hair pigment production.  
Addressing common question around the usage of fermented rice water:
A popular concern among people who use or are shifting to Fermented rice water is how often should they use the product? It all depends on your scalp and hair type. Daily use is recommended for weak or damaged hair. If your hair is already strong and healthy, treat your hair less frequently to still get the scalp benefits without the risk of protein overload to your hair strands. 
To wrap it all up, one of your top priorities should be taking care of your hair! Products made with fermented rice water are perfect  for fine, frizzy and damaged hair. No matter how badly damaged your hair is, fermented rice water products can quickly hydrate and smooth. In all, it's crucial to pick hair care products that support healthy hair development, keep your scalp nourished and support your hair's natural gloss and brilliance . A superfood for your hair, fermented rice water can enhance the health of your hair follicles and even reduce dandruff. They can treat a variety of hair-related issues, promote healthy hair growth, and revive shine. You should buy products that are safe for every hair type, from shampoos to conditioners to mists.